Reprinted from Fortune Magazine - December 2012 issue

Are Subarus the best cars money can buy?
November 19, 2012: 5:00 AM ET
Subaru's latest models are winning the highest marks for quality and safety. Here's how the tiny, quirky, "artisanal" car maker does it.
By Alex Taylor III, Senior Editor-At-Large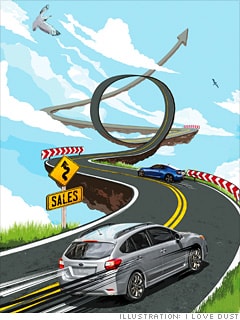 FORTUNE -- By the usual measurements, Subaru should be no more than an afterthought in the U.S. car market. It sells just seven car and crossover models and accounts for a slim 2.3% of U.S. auto sales. By itself, the Toyota Camry outsells the entire Subaru lineup. For years Subaru has been essentially a regional brand -- strong in the Northeast and Northwest but unknown in the rest of the country. No overnight success, Subaru of America -- the U.S. arm of Japan's Fuji Heavy Industries -- began selling cars in the U.S. 44 years ago and still ranks only 12th in size. Hyundai and Kia, which arrived two decades later, have developed broader product lines and sell several times more vehicles.
Yet Subaru has racked up more endorsements by independent arbiters of automotive quality and safety than just about any other manufacturer. Consumer Reports rates Subaru above Mercedes-Benz, BMW, and every other manufacturer in performance, comfort, utility, and reliability, and says the company makes the best cars in America. ALG (formerly Automotive Lease Guide), the industry's arbiter of residual value and used-car prices, named Subaru the leader in retained value among mainstream brands. And after crash tests, the Insurance Institute for Highway Safety made Subaru a "top safety pick" across its entire product line, a distinction no other manufacturer can claim.
Fueled by this trifecta of achievements, just about everything Subaru sells is flying off dealers' lots this year. Despite a chronic shortage of inventory, the company has been breaking monthly sales records with regularity, and sales for the year are up 26% compared with last year's -- nearly double the 14% gain for the industry as a whole. Hurricane Sandy struck right in the heart of Subaru's customer base, yet the little car company saw sales jump 30% in October, vs. the industry's 7%.